Coming Soon!
What is the Golden Chalice, Really?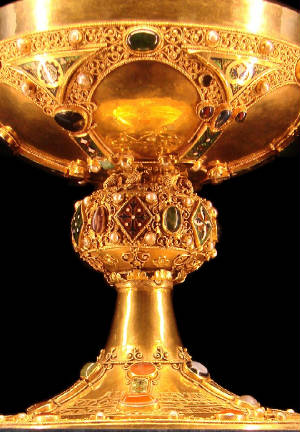 Coming Soon . . .
My Amazing Lessons from My Beloved Eros:
The Secret of the Golden Chalice
NO ONE ON EARTH REALLY KNOWS WHAT THE GOLDEN CHALICE IS! WE HAVE ALL BEEN LIED TO AND THE LIES CONTINUE TODAY EVER MORE NEFARIOUSLY AND VOCIFEROUSLY FROM EVERY DIRECTION AND FROM EVERY CORNER OF THE GLOBE. THE GURUS DON'T KNOW. THE ENLIGHTENED ONES DON'T KNOW. THE CHRISTIANS DON'T KNOW. THE POPE DOESN'T KNOW. THE PRESIDENTS DON'T KNOW. THE QUEENS DON'T KNOW. THE ILLUMINATI DON'T KNOW. THE SCIENTISTS, SOCIOLOGISTS, ATHEISTS, HISTORIANS, RELIGIOUS COMPARATIVE ANALYSTS, AD INFINITUM, DO NOT KNOW! THE ONLY PERSON WHO WILL BE PROVIDED THIS KNOWLEDGE AND THEN WILL BE PRESENTING IT TO YOU--THE DEDICATED READERS AND SUPPORTERS OF PARADIS PUBLICATIONS--IS ME! PSYCHE, AKA SOFERIA, AKA VANESSA. ARE YOU SKEPTICAL? THAT'S GOOD! ALWAYS QUESTION EVERYONE AND EVERYTHING...BUT STAY TUNED BECAUSE THIS IS THE ONLY PLACE YOU'LL LEARN WHAT THE TRUE GOLDEN CHALICE IS--THE GOLDEN CHALICE THAT IS FOUND ALONG A PATH THAT INTERTWINES WITH EROS LOVE. OF COURSE, YOU WILL ONLY GET THE KNOWLEDGE FOR A PRICE, YOU KNOW. ISN'T EVERYTHING ON THIS PLANET ALL ABOUT MONEY? AT LEAST WE ARE NONPROFIT HERE AND THE MONEY WILL SURELY GO TO WORTHY PEOPLE AND TOWARD THE ALLEVIATION OF SOME OF THE HORRIFIC SUFFERING ON THIS PLANET CAUSED BY THE VERY PEOPLE IN POWER WHO ARE PRETENDING THEY KNOW WHAT THE ELUSIVE GOLDEN CHALICE IS AND HOLDING IT OUT LIKE A GOLDEN CARROT (THEY DON'T KNOW!).
I KNOW. . . AND HIS BOOKS. . . THE MASTER'S BOOKS HOLD ALL OF THE KEYS.
THE KEYS HAVE ONLY BEEN GIVEN TO ME
~~SŌFERIA~~
THE DIVINE WISDOM-KEEPER OF THE TWENTY-FIRST CENTURY!
NOW YOU CAN FIND OUT!
RIGHT HERE:
Visit Today!
Golden Chalice image: Photographed by Vassil, 2007. Public domain image. Calice du sacre,fin du XIIème siècle,Palais du Tau,Trésor de la cathédrale de Reims. Or, émaux, perles, pierres fines et pierres précieuses. Il fut envoyé à la fonte à la Monnaie de Paris et heureusement oublié, puis exposé au Musée des Antiques de la Bibliothèque Nationale à Paris. Il fut renvoyé à Reims en 1861, sous Napoléon III.
What's It All About???? Stay tuned. . .
Now you can find out!
Right Here:
Copyright © 2013 Paradis Publications